Searching for a non-sports cliché? Try Morgan Friedman's enormous Cliché Finder database.
Tom Mangan has a superb collection of news media cliches.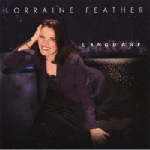 Jazz singer Lorraine Feather recorded a song inspired by SportsCliche.com. Her 2008 album Language features a track entitled Hit the Ground Runnin' that is loaded up with cliches from this website. Click here to have a look and listen.
Contributors:


Herm "The Cliche King" Brunotte, Jeff Ehrlich, Stacie Sasaki, Tom Hasselbeck, Robert Burke, Steve Grantham, Mansoor Sheik-Bahae, Bob Hasselbeck, Don Stalnaker, Scott Donovan, Kai Gäbel, Scott Nelson, Gary Snow, Stephanie Thompson, Reid Van Nattan, Matt Shostak, Stuart McKelvie, Eric Wachs, Brian Piecuch, Joe Lancaster, Greg Palmer, Emery Skolfield, Grace Sasaki, Thaddeus Poprawa, Steve Santacroce, Jim Cody, Peter Rimac, Gene Esser, George Kaplan, Doug Kaplan, Dave Kaplan, Dominic Ionadi, David Hunnicutt, Kevin Struck, Joseph Frost, Mike Carter, Bret Graham, Herbert Kay, Ian McKenney, Larry Thomson, Dwight Holmes, Jim DeCroteau, Mike Frachioni, Gary Stephen Jr, Lowell Orren, Kevin McDonald, Stephanie Takeshita, Gary Rex, Doug DeLong, Jack Crane, John Terry, Ellis Hart, Ted Prezelski, Chris Daniels, Chris Shepard, Kim Halverson, Scott Cummins, Rue Mathison, Rick Troup, Erik Kolbell, Hilary Kraus, Ron McArthur, Jim Zeirke, Jeff Vowell, Morry Browne, Brandon Paul, Josh Goldstein, Tom Kirwan, Stephen Welsh, Jennifer Galloway, Pete Farnham, Mike Kuehn, Chuck Hoey, Paul Miller, Sam Branstner, Ben Maller, Tzadik Vanderhoof, Lou Bricano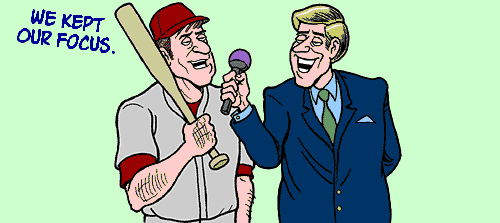 The Sports Cliché List was assembled from a detailed survey of numerous player and coach interviews, pre-game, post-game, and halftime analyses, sports radio commentaries, television sportscasts, and printed sports reports. Determining just what qualifies as a sports cliché is difficult. Is an expression primarily a sports cliché or a mainstream cliché? Is something cliché in one context and not in another? For example, "he hit a home run" is the spin heard after every televised political debate, but an unembellished description of an event at a ballpark. For the purpose of this website, we define a sports cliché as an expression that has been used in and around sports with sufficient frequency over a protracted period such that it is "tired" at best and meaningless at worst. In that respect, we contend that nothing of any importance has ever been said in a halftime analysis. The "break in the action" is, however, chock-full of mundane clichés tossed around by expensively dressed ex-players and coaches. Unless you enjoy documenting sports clichés as we do, we suggest this as a good time to hit the refrigerator or the bathroom.
The list gives only one possible representation of a cliché. There are countless permutations (for example, replacing he with she or John Elway with Dan Marino); we have omitted the permutations and trust that the core of the cliché will be obvious to the reader. Sport-specific clichés are separated where appropriate. The various categories indicate where a certain cliché is most commonly used – they do of course, pop up all the time. We have not included announcer-specific clichés such as Bill Raftery's "With the kiss!", Marv Albert's "Yes – and it counts!", or the myriad of Dick Vitalisms. If and when these permeate the cliché arsenal of the at-large sports community, they'll go into the list.
This website has been running since April 1999. Click here to see the results of sports cliché surveys we've done. Some of the press we've received is listed here.
The collection on this site represents an ongoing project. Do you have a sports cliché suggestion or comment? Contact us by clicking here.
Illustration by Steve Greenberg